The
Canine University
was born in 2013 after the dreams of its founder and president,
Caro Sacco CPDT-KA
, of living in a world where dogs are part of our society as
respected citizens
with rights and responsibilities like us.
br>

"I've loved animals ever since I was a kid. I started training dogs
when I was 7
– although my dream was to be a dolphin trainer – by intuition with a very grumpy family dog. Inspired by TV shows and movies with animal actors that I would analize non-stop, I dreamed of being able to teach all those things to my pets and be able to go everywhere with them, but there was no place to learn that in my native country, Venezuela. So, when I was 7, I noticed that, despite his grumpiness, that dog liked food very much and I accomplished teaching him to
sit, lay down and high five
by feeding him when he did what I wanted. This revived my dreams since, even though nobody told me how to do it,
it had worked!
br>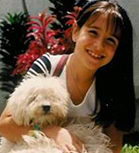 Then, when I was 8, Ponqui arrived, a very special dog to whom I taught
basic obedience
that years later, when she was old and could barely hear, I had to
reteach from zero using only visual cues
with my hands and body. She was the second dog I trained and her temperament opposite to the previous taught me that, just like us, each dog has their own personality and methods must be customized.
br>
When I was 12 I thought my dream of having a "truly" trained dog was coming true since I was able to save enough money to hire a trainer for Cindy, another family dog. I had never been so excited until the classes began and I noticed that
what the trainer was doing was the same as what I had been doing
(with better handling skills, of course). This engouraged me so much, until one day that person
vanished
without finishing the course and having taken my money. At that moment, I decided that
I would make my dreams come true on my own
. I read A LOT and bought TONS of books and magazines, although some of them were too expensive for a 13 year old so I would go to the book store and hide to read them. Nevertheless, I would have never accomplished anything if it wasn't for the
best teachers in the world: my dogs
. I even succeeded in teaching some cues to a bunny. Later, I gained access to lots of more information thanks to the internet and was finally able to teach Cindy the
pending commands and tricks like high five, playing dead and jump through a hoop
.
br>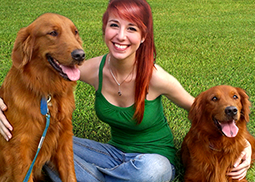 Later on, Kya came along, a puppy as cute as stubborn that taught me many more things and we learned to work together performing a
bunch of tricks
for kids and adults in many events where her son Key joined us. He, besides being trained for advanced obedience and tricks and starring in
TV commercials
, was raised as a
therapy dog
.
br>
I also had the chance to witness other "professional" trainers and that encouraged me much more since I was able to notice the abundant use of old-school techniques focused on punishment, impositions for the owners, dependance on collars or other objects and that classic "cold" handling from years ago that, to my astonishment and ignorance of the owners, were considered appropriate. This strenghtened my visions and wishes to educate dogs and owners about the
actual positive training
and avoid those techniques being accepted anymore.
br>
I also got certified by the
Certification Council for Professional Dog Trainers
, the main organization for positive trainers in the U.S., becoming the first Venezuelan to obtain such title and, with tons of hard work, I fulfilled most of my goals: I have dogs trained in advanced levels by myself, my profession is dog training besides having a college degree in Modern Languages, being a community manager, translator, doing graphic design jobs, among others, and I can go anywhere with my dogs. I also trained chickens – yes, and they're amazing at tricks! – at Terry Ryan's
Legacy Canine – Chicken Camp
in WA, as well as preparing and handling animal stars for photo shoots, TV commercials, trick shows, etc.
br>
I fulfilled my dream of getting certified as a
marine mammal trainer
too with
ABC Animal Training
and
Dolphin Discovery
in FL, where I got the chance to work with different species like dolphins, sea lions, seals, penguins, crows, rays, flamingos among others, some of which even had disabilities, were elderly or had other conditions.
br>
However, every time my dogs come with me to the bank, the store, etc.,
people express how much they wish their dogs behaved so well
. I've also worked with families with
kids as enthusiastic as me
when I was little and, just like me, they have no place to learn these skills.
br>
Now, the Canine University of Denver, Seattle, Venezuela, México and Panama offers
everyone access to what were nothing but dreams for so long
. I want people to realize that
their dogs CAN INDEED behave just as well
with
patience
,
love
and
perseverance
, and, little by little, to boost the canine culture in America with
more responsible pawrents and more super dogs
".