How does it work?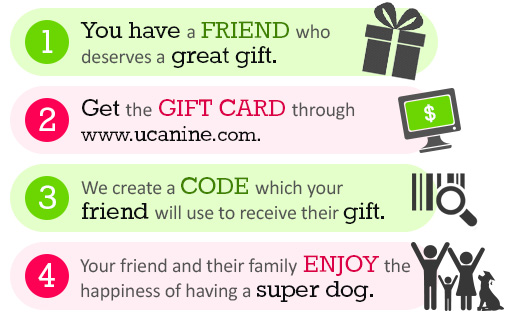 Variety of gift cards to choose from:
br>
Obedience
br>
Give education to that dog that needs it so badly. Obedience gift cards are valid for any of our four levels regardless of breed or age. You may select among three types:
100% tuition
50% tuition
25% tuition
br>
Program Little Professors
br>
This program is ideal for kids and teens 7 to 15 who wish to learn moe about dogs, their education and learning process. You may select among two types:
br>
1 – Redeeming
Gift cards cannot be used to buy other gift cards. They can only be used to redeem the course and percentage stated in each.
In case the gift card is not 100% tuition, the beneficiary will have to pay for the remaining amount according to the standard normative of the University.
The redeem will be subject to appointments and available schedules.
The buyer's authorization will be mandatory in order to be able to redeem a gift card after the beneficiary gets in touch with us.
In case the same person is the beneficiary of more than one gift card for the same course, they will be able to redeem them all together. E.g. a course can be paid for with two 50% or four 35% tuition gift cards.
2 – Limitations
Gift cards do NOT include the cost of the initial consultation which is mandatory (More details in section Tuition).
Each gift card will be valid for six (6) months starting on the moment they are sent.
Gift cards are valid ONLY in campus.
Once the buyer authorizes the use of the gift card code, the process cannot be reverted.
If there was a change in tuition fares after acquiring a gift card and before it is redeemed:
– 100% tuition gift cards: there won't be any extra charges.
– 50% and 25% tuition gift cards: the change will apply only to the remaining percentage.

Gift cards will be by no means subject to reimbursement or compensation. Sales are final and will not be refunded.
3 – Fraud
The University will reserve the right to act according to the law in case of fraud of any kind.
4 – General terms
Except for the percentage paid by the buyer, the beneficiary must meet the requirements stated in our normative.
br>

Please, fill out this form once you have successfully paid for your gift card. Thanks!
br>